Maps and activities for the Pyrénées-Orientales (Département 66)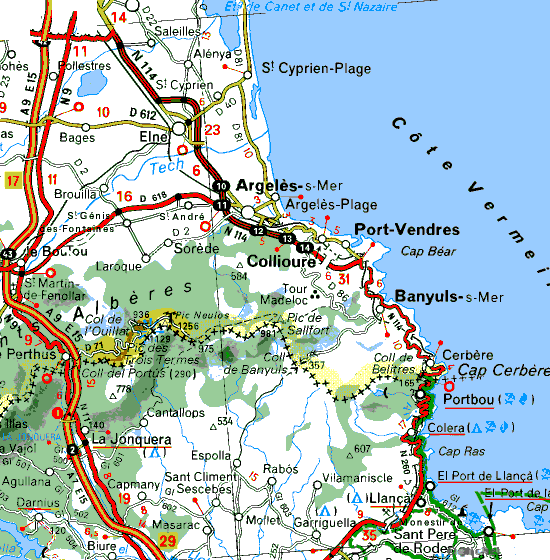 Beaches
The nearest beaches (see the middle map above) are Argelès, Le Racou, St Cyprien, Canet-Plage, Collioure, Porte-Vendres and Banyuls in approximate order of distance from Laroque. The first four are all long sandy beaches with plenty of family facilities. Le Racou is the smallest and the least spoilt and features Menja Aqui a very small tapas restaurant, on the road behind the beach, serving excellent Catalan dishes for lunch (get there early!!). The three other beaches are pebbles & shingle, but the towns are worth a visit (especially Collioure) and there is plenty of choice for lunch. If you want to go further afield try Cadaques (bottom map, above), over the Spanish border on the old Corniche road (N260). It only features a pebble beach, however. Watch out for the left turn at LLanca - it is very easy to miss, and you end up going to Girona, which isn't near any beaches!
Water Parks
A good day out for children of all ages is AquaLand just south of St. Cyprien (Route d'Argelès, 66750. Telephone: 04 68 21 43 43) - it features a variety of water slides etc. including some areas for toddlers. Make sure you take plenty of sun cream and/or a tee-shirt - you can't carry anything around the complex and you will be exposed to a lot of sun. It opens June to September and there is a second complex further north at Port Leucate

A wilder alternative is the Canyoning Park, Espace Loisirs, Plage nord, Aregelès plage. This is a waterpark for canyoning, open April till September, from 10 a.m. till 7 p.m. Equipment provided: Combis harness and shoes. Entry: over 12 = 26 Euros, under 12 = 20 Euros. Telephone: 04 68 95 41 66 - Fax: 04 68 95 98 77
Half-days out
The Eagles of Valmy - Chateau de Valmy, Argelès. Open from April to September - shows at 14:30 and 16:30. Telephone: 04 68 81 67 32.
Ferme de Decouverte - a small animal farm (300 animals - sheep, goats, geese, donkeys) near to St André. It is open from April to September, Wednesday - Sunday. Telephone: 04 68 89 16 39
Le Tropique du Papillon - A tropical butterfly farm, south of Elne. Open April to September. Telephone: 04 68 37 83 77
La Vallée des Tortues - 'Valley of the tortoises' on the edge of Sorède (rue de Vallée Hereuse). Open March to October. Telephone: 04 68 95 50 50
Musee de l'Aviation - Aviation museum at Palegry, south of Perpignan. Open April to October. Telepnone: 04 68 54 08 79
Observatoir Oceanologique - the aquarium of Banyuls-sur-Mer, near the harbour, open all year. Telephone: 04 68 88 73 39 http://www.obs-banyuls.fr
Boat Trips
St Laurent & St Honorat - local boat trips, daytime and evenings. July to September. Telephone: 04 68 81 60 43. Ports: Argelès, Collioure and Port-Vendres.
Roussillon Croisieres - local boat trips and trips to Spain. August only. Telephone: 04 68 81 63 84. Main port: Argelès
Bike rental
Velocation, Galerie Commerciale, Central Beach, 187 avenue du Tech, 66700 Argelès plage. Rental of bicycles for children and adults : From 11 Euros/day and 31 Euros/week. Tel./Fax: 04 68 81 61 61. Open from Easter till September (during July and August from 09:00 till midnight).
Guidon Fute, Résidence Le Pré Catalan, Avenue du Tech, Argelès plage. Telelephone: 04 68 81 56 55. Open June to September, every day from 09:00 till midnight.
Technicycles 66, Zone artisanale, 27 rue des Verdiers, Argelès village. Bike rental from 28 Euros/week. Telephone: 04 68 95 76 36 - Fax: 04 68 95 76 47. Open all the year from 09:00 till 19:00
Blue Bear, Camping La Sirene. Route de Taxo. Rental of mountain bikes from 10 Euro/day. Tel-Fax: 04 68 81 40 06. Open from April till September.
Contact us:
Email: Telephone: 0033 468 87 17 35
Please note that the above email link may not work if you are behind a Company firewall and will not work if you only have a web-based email facility, such as Googlemail or Hotmail.
Created: September 2005.
Updated: